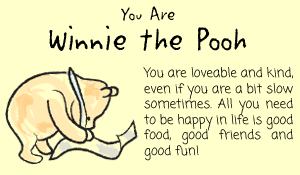 Take the 100 Acre Personality Quiz!
I mean, Eeyore's my favorite. I can be very mopey like that. Well, it does say 'even if you are a bit slow sometimes.'
My favorite "Sesame Street Character" is Mr. Snuffleupagus. You know...floppy and cuddly. Like Eeyore and Pooh Bear. That's me...floppy and cuddly. I would live in flannel pajamas, if I could.